This is it,
Just short of 5kg it should be enough for the lunch and sandwiches and curry the day after.
At the moment its in the refrigerator defrosting for three days, I feel it much safer than the quick defrost methods that some people use.
then I shall wash it inside and out and pat dry with kitchen towels. The only thing I put into the cavity is one full onion cut in half, tie the legs with string, and season all over.
This year I shall be using
the following ingredients:
1 teaspoon Thyme
1 teaspoon Sage
½ teaspoon Marjoram
1/4 teaspoon Paprika


½ teaspoon dry Rosemary, or 2 sprigs fresh.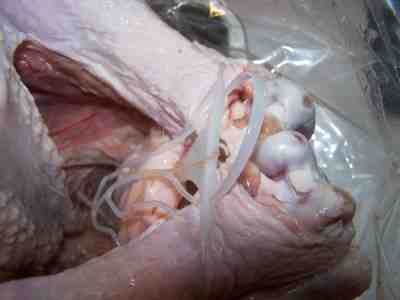 tie the legs together.
And I shall be using the BAG method, I personally find cooking the turkey in the bag keep the bird so juicy.
Well that's the turkey, I shall be serving it with carrots, cauliflower, broccoli, roast and mash potatoes, onion gravy using the juice from the cooked meat, catch all the flavours of the seasoning.
And to follow the meal I shall be serving good old Bread and butter pudding. followed by cheese selection and port, followed by coffee and mints.
Once all the eating done we will settle down and watch a good old family film.
UPDATE 24/12/2010.
Actual Bird Cooking.
Actual bird Cooking
Decided not to use the bag as it was to small for this bird. the smells running around the house are wonderful,
Merry Christmas everyone.
..................................................
Lenox Holiday 13-Inch Gold-Banded Fine China Oval Platter
Spode Woodland Turkey Rectangular Platter
Johnson Brothers Friendly Village 19.5-Inch Turkey Platter